You have just published your brand's video to the world and the number of views is just flowing in. However, is the number of views the correct metric to measure the performance of a video?
Video views don't even come close to its performance metric because in most cases, even if a video is viewed for only about 3 seconds or even if the video is just opened, it is counted as a view. There's a list of other parameters which determine the effectiveness of a video, however, it also depends on the objective of your video.
Below is a list of video metrics that can be considered to measure the success of a video, although, some platforms may not present all of them.
Play Rate:
Play Rate represents the number of people who clicked play and watched the video.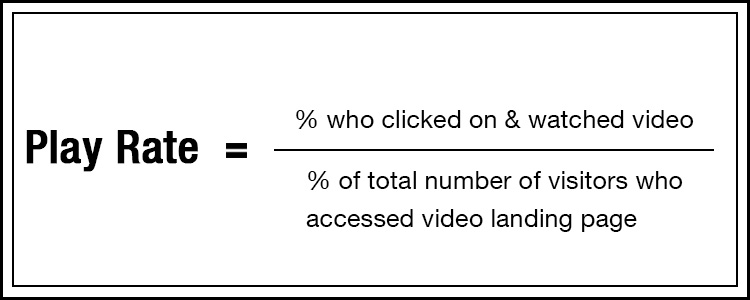 For an optimal play rate, here's what to keep in mind:
Your video has to be positioned in a sweet spot on the landing page
The size has to be moderate
Your video thumbnail must be eye-catching, engaging, and relevant
The copy around your video should be persuasive, accurate, and brief
Social Sharing:
Social sharing reflects the number of people sharing your video across different social platforms.
If someone feels they should share your content with their friends and the world, it means they appreciate it
Shares add credibility to your content because it's evidence that there are lots of people who believe in your content
Shares lead to the creation of a broader community that is brought together by your content
Engagement:
Engagement metrics typically include the average view time and the percentage of your video that people actually watch.
Comments/Feedback/Sentiments:
Comments and feedback are a little different from the other metrics because they involve qualitative data and not numbers. However, if you observe how your target audience is reacting it helps you understand their sentiments and have an efficient ORM and response management in place.
Best Practices:
Response management
Find out if your viewers find your content relatable
Respond to all comments, even negative sentiments of the viewers
Click-through Rate:
Click-through rate (CTR) is the percentage of viewers that click on whatever CTA you include in your video content in order to redirect them to some other page or some other tab of information.
Your CTR will give you an indication of how successful your video is at encouraging viewers to take action. The reason why this metric works the best is because ideally none of the viewers will click on the CTA if they haven't watched the video.
To improve the CTRs in your video content, you should:
Give an enticing CTA which is distinctly noticeable too,
Improve your average engagement first, especially if viewers are dropping off before reaching your CTA.
Make your CTA highly relevant to the content of your video.
Always make sure your CTA matches the video it's placed in. It should not only be relevant to the video topic, but should also fit the tone and look of the video.